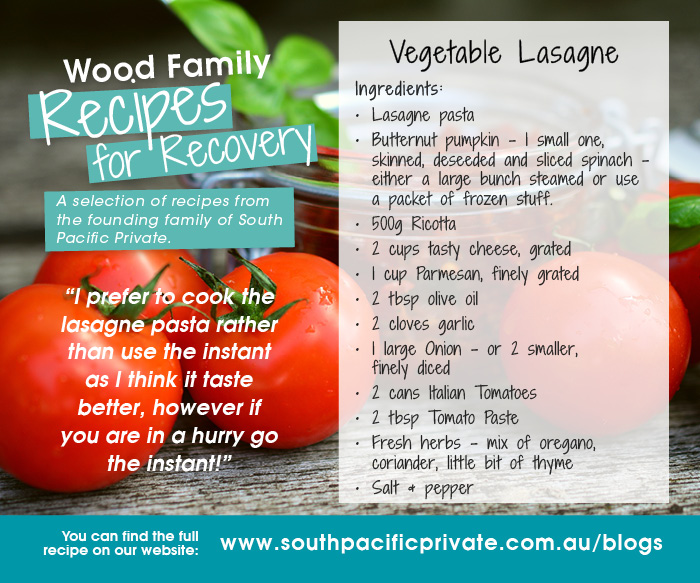 25 May

Recipes for Recovery: Veggie Lasagne

The Wood family founded South Pacific Private 25 years ago and since that time have been committed to the Recovery of their clients and their client's families.

South Pacific Private approaches Recovery from a holistic viewpoint combining therapy with psycho educational lectures, mindfulness and well being. We have been smoke-free since 2008 and caffeine and sugar-free for the last few years as well. The food provided for clients at South Pacific Private is nutritionally balanced and carefully prepared, taking into account all dietary needs.

Several members of the Wood Family, including Fleur Wood and Frances Hansen, are published authors and have created beautiful recipe books which contain lovely, hearty recipes. The Wood family wanted to share some of these recipes with you as a support for your ongoing Recovery.

Eating well and having a balanced, mindful approach to nutrition is important at the point of detox and throughout early Recovery, as well as for a long-term sustainable healthy relationship with food.

In this blog series we will share a collection of recipes from the Wood family which will support Recovery but also healthy eating generally.

We hope you enjoy not only the preparation of these meals but also the nourishment you get from them.

INGREDIENTS: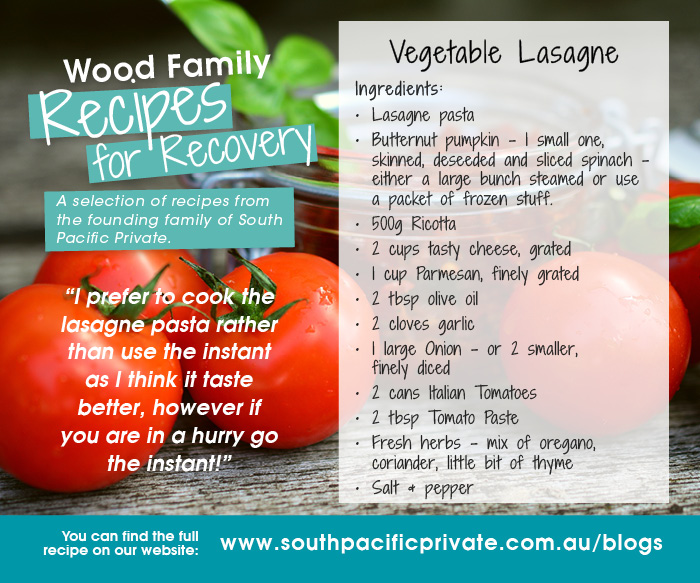 METHOD:
Tomato Sauce
Sauté garlic & onion in the olive oil, taking care to not brown the garlic. When onion is transparent add the cans of tomatoes, tomato paste, herbs and s&p to taste. Simmering for about 10 mins, reduce the liquid a little, if you have used cans of whole tomatoes you will need to mash them up a both with a wand stick, easier to use crushed toms.
To Assemble:
Place 1/2 cup of the sauce on bottom of baking dish, layer ingredients in following order:
Pasta, spinach, pumpkin, tomato sauce, cheeses (and repeat as necc.)
Aim to make about 3 layers of each finishing with grated tasty cheese on top.
Bake on 325°F for one hour.