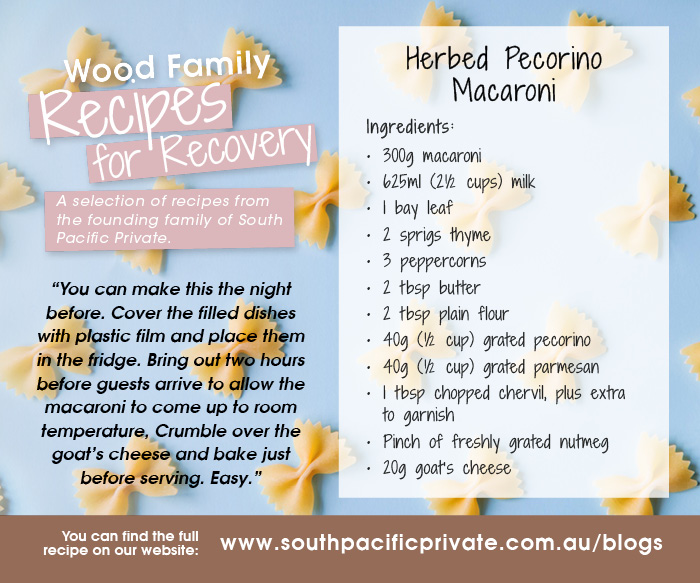 25 May

Recipes for Recovery: Herbed Pecorino Macaroni

The Wood family founded South Pacific Private 25 years ago and since that time have been committed to the Recovery of their clients and their client's families.

South Pacific Private approaches Recovery from a holistic viewpoint combining therapy with psycho educational lectures, mindfulness and well being. We have been smoke-free since 2008 and caffeine and sugar free for the last few years as well. The food provided for clients at South Pacific Private is nutritionally balanced and carefully prepared, taking into account all dietary needs.

Several members of the Wood Family, including Fleur Wood and Frances Hansen, are published authors and have created beautiful recipe books which contain lovely, hearty recipes. The Wood family wanted to share some of these recipes with you as a support for your ongoing Recovery.

Eating well and having a balanced, mindful approach to nutrition is important at the point of detox and throughout early Recovery, as well as for a long-term sustainable healthy relationship with food.

In this blog series we will share a collection of recipes from the Wood family which will support Recovery but also healthy eating generally.

We hope you enjoy not only the preparation of these meals but also the nourishment you get from them.

INGREDIENTS: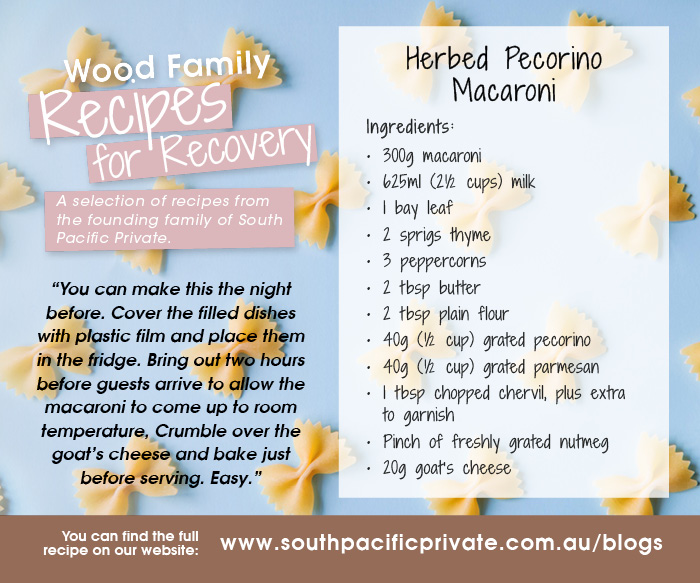 METHOD:
Cook the macaroni in a large saucepan of boiling, salted water until al dente.
Combine the milk, bay leaf, thyme and peppercorns in a small saucepan and bring just to the boil. Turn off the heat and allow the mixture to infuse for 30 minutes. Discard the herbs.
Preheat the oven to 180°C. Melt the butter in a medium saucepan, sprinkle over the flour and cook, stirring continuously, for 1-2 minutes or until the flour starts to brown. Slowly whisk in the infused milk until well combined.
Continue to stir for 4-6 minutes or until the sauce thickens. Stir in the macaroni, pecorino, parmesan, chervil and nutmeg.
Spoon the macaroni into six 250 ml (1 cup) capacity dishes and crumble over the goat's cheese. Bake for 10 minutes or until the cheese melts and turns golden. Serve garnished with chervil.