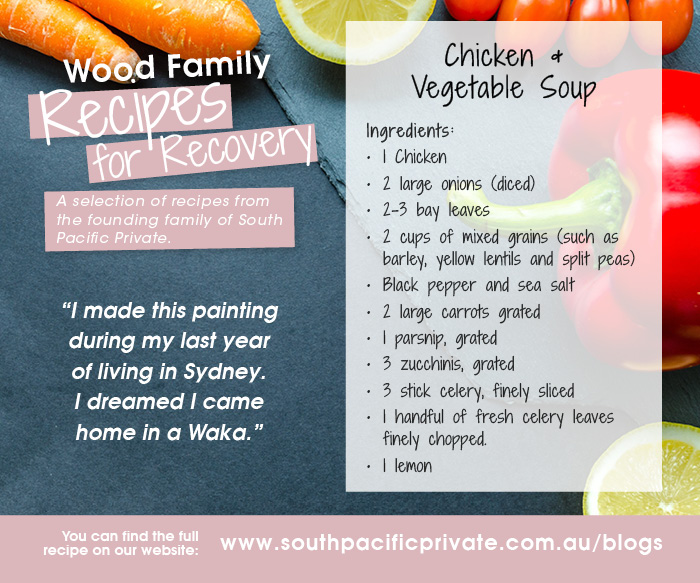 24 May

Recipes for Recovery: Chicken and Vegetable Soup

The Wood family founded South Pacific Private 25 years ago and since that time have been committed to the Recovery of their clients and their client's families.

South Pacific Private approaches Recovery from a holistic viewpoint combining therapy with psycho educational lectures, mindfulness and well being. We have been smoke-free since 2008 and caffeine and sugar free for the last few years as well. The food provided for clients at South Pacific Private is nutritionally balanced and carefully prepared, taking into account all dietary needs.

Several members of the Wood Family, including Fleur Wood and Frances Hansen, are published authors and have created beautiful recipe books which contain lovely, hearty recipes. The Wood family wanted to share some of these recipes with you as a support for your ongoing Recovery.

Eating well and having a balanced, mindful approach to nutrition is important at the point of detox and throughout early Recovery, as well as for a long-term sustainable healthy relationship with food.

In this blog series we will share a collection of recipes from the Wood family which will support Recovery but also healthy eating generally. We hope you enjoy not only the preparation of these meals but also the nourishment you get from them.

INGREDIENTS: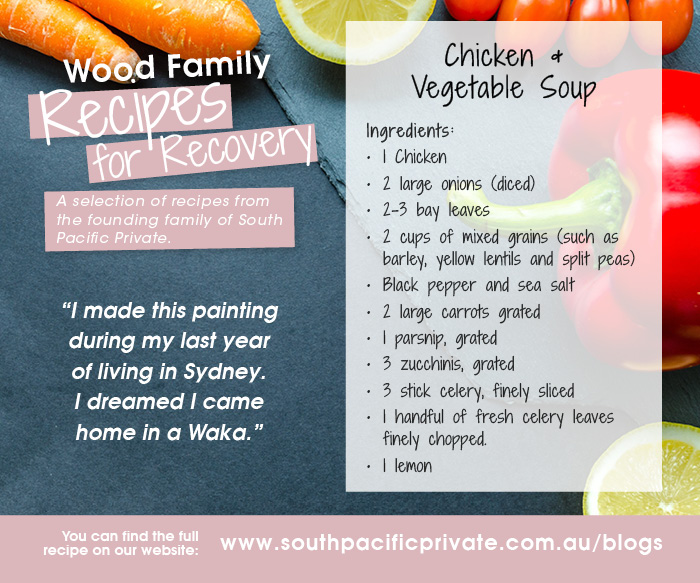 METHOD:
Using an organic chicken, rinse thoroughly, put into a large pot of water with a lemon that has been stabbed with a knife a few times (to let the juices run out), 2 large diced onions, 2-3 bay leaves and 2 cups of mixed grains such as barley, yellow lentils and split peas.  You could also use the pre-packaged soup mixes.
Season with plenty of freshly ground black pepper and sea salt.
Simmer away, with lid on for 1-1 1/2 hrs.
Meanwhile prepare all the vegetables:
2 large carrots grated
1 parsnip, grated
3 zucchinis, grated
3 stick celery, finely sliced
1 handful of fresh celery leaves finely chopped.
Skim off fatty froth from the surface, remove lemon and bay leaves from the pot. Discard.
Remove from the pot, this is tricky as it will be falling apart. Carefully scoop up all the meat and bones from the stock, cool and then strip away all the meat.
You will need to dice up the larger pieces. Add all the veg to the pot, simmer for 30 mins, at this stage could add large potato, peeled and diced, for a thicker, heartier soup.
Add the cooked chicken meat.
Season with more S&P, juice of 1 lemon and then serve with finely chopped Italian parsley, and bread for dipping.
Nb: You may need to add move water if soup gets too thick.