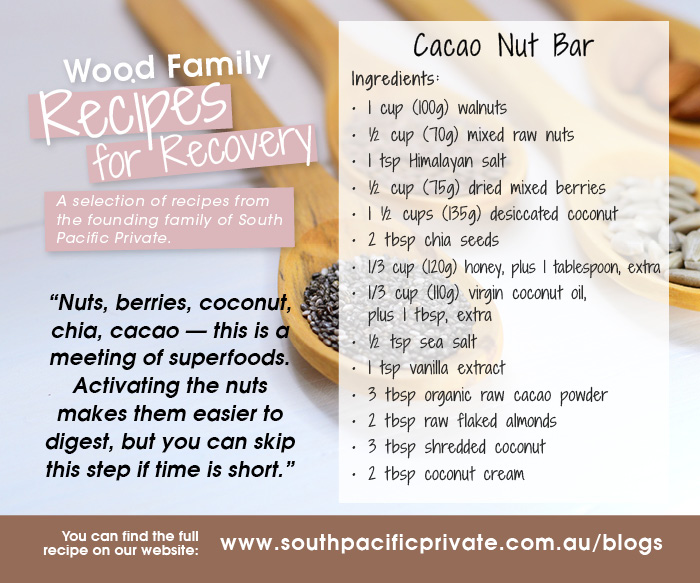 24 May

Recipes for Recovery: Cacao Nut Bar

The Wood family founded South Pacific Private 25 years ago and since that time have been committed to the Recovery of their clients and their client's families.

South Pacific Private approaches Recovery from a holistic viewpoint combining therapy with psychoeducational lectures, mindfulness and well being. We have been smoke-free since 2008 and caffeine and sugar free for the last few years as well. The food provided for clients at South Pacific Private is nutritionally balanced and carefully prepared, taking into account all dietary needs.

Several members of the Wood Family, including Fleur Wood and Frances Hansen, are published authors and have created beautiful recipe books which contain lovely, hearty recipes. The Wood family wanted to share some of these recipes with you as a support for your ongoing Recovery.

Eating well and having a balanced, mindful approach to nutrition is important at the point of detox and throughout early Recovery, as well as for a long-term sustainable healthy relationship with food.

In this blog series we will share a collection of recipes from the Wood family which will support Recovery but also healthy eating generally. We hope you enjoy not only the preparation of these meals but also the nourishment you get from them.

INGREDIENTS: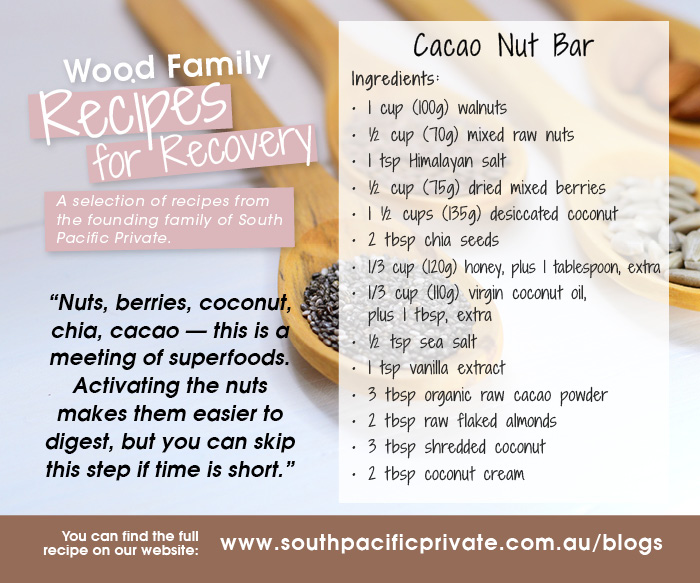 METHOD:
To activate the nuts, place in a large bowl with the salt, cover with filtered water and set aside overnight to soak.
Preheat the oven to the lowest possible setting. Drain the nuts and spread over a large baking tray. Heat the nuts in the oven for about 3 hours or until they are dry.
Increase the oven temperature to 160°C (315°F). Grease a 28 x 18 cm slice tin and line with non-stick baking paper, allowing it to overhang the sides. Put the
nuts, berries, desiccated coconut and chia seeds in a food processor and pulse until roughly chopped.
Bring the honey, coconut oil, salt and vanilla to the boil in a small saucepan over medium heat. Reduce the heat and simmer for 1 minute. Remove from the heat and let the bubbles subside.
Whisk in 2 tablespoons of the cacao, then add to the food processor. Pulse to combine. Press the mixture into the prepared tin, sprinkle with the almonds and 2 tablespoons of shredded coconut. Bake for 15-20 minutes, until the mixture firms. Set aside to cool.
Whisk the coconut cream, extra honey and coconut oil, and remaining cacao over low heat until smooth.
Drizzle over the slice, scatter with the remaining shredded coconut and refrigerate until firm, then cut into 12 bars.
Keep in an airtight container in the fridge for up to 1 week.