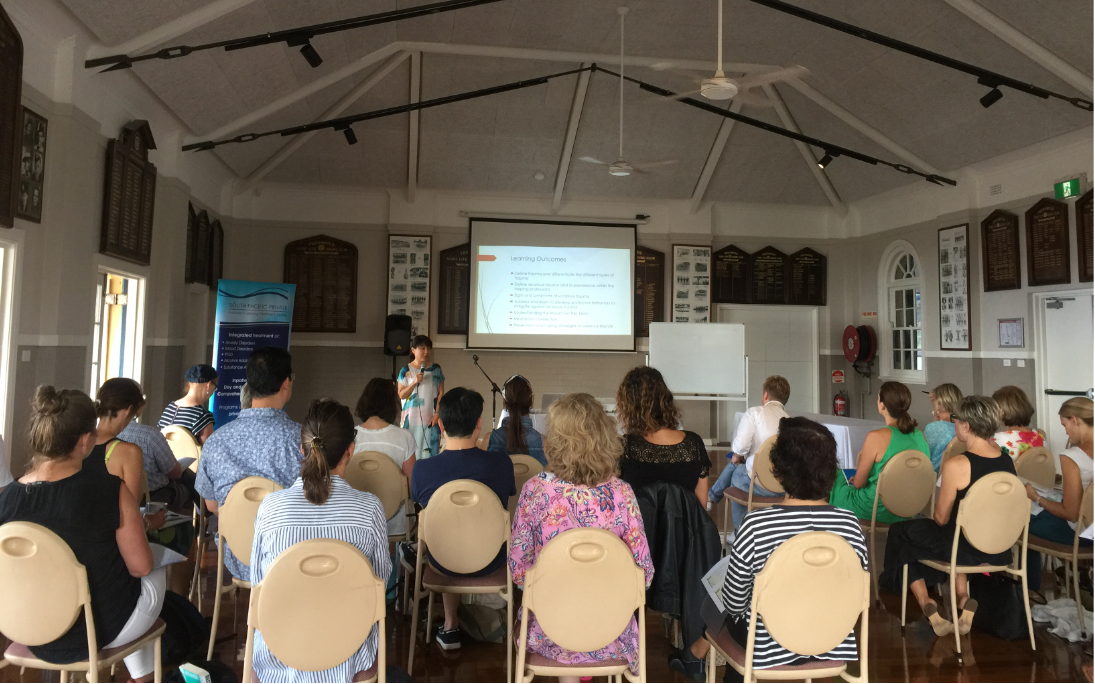 13 Feb

South Pacific Private Clinical Staff Undertake Latest Vicarious Trauma Training

This week, 33 South Pacific Private staff and external professionals participated in training to be better equipped to recognise and respond to vicarious trauma (VT) and transform the experience into a source of resilience and growth.

Developed by Pearlman and Saakvitne, the definition of vicarious trauma is 'the inner transformation that occurs in the inner experience of the therapist [or other professional] that comes about as a result of empathic engagement with clients' trauma material.'

First observed in professionals in the 1970s, awareness and recognition of VT has increased however it is still widely thought of as difficult to acknowledge, disclose and address.

The training, presented by expert Psychotherapist Sue Ward, educated South Pacific Private attendees how to differentiate the different types of trauma, the signs and symptoms of vicarious trauma and its prevalence, the impact of trauma upon the brain and how to develop resilience, prevention and coping strategies.

As Australia's Leading Treatment Centre, our high standard for staff training and education is of the utmost importance to ensure that our leading experts continue their dedicated work to change lives and heal families.


About South Pacific Private
South Pacific Private is Australia's Leading Treatment Centre specialising in the integrated psychiatric, medical and therapeutic treatment of addictions, mood disorders and trauma.

A fully accredited, acute care Psychiatric Hospital, evidence-based programs, delivered by leading clinicians, have changed the lives of over 10 thousand patients and their families over the past 26 years.

A three-part program, South Pacific Private's focus is on an intensive inpatient program, treating the underlying core issues which have fuelled the presenting problems, a Family Program which encourages families to become involved in the client's treatment journey (if appropriate for the client's wellbeing) and an Integration and Connection program designed to re-establish the fundamentals of everyday life while minimising relapse.

Treatment at South Pacific Private is designed to meet the individual needs of each client and offers the best possibility of recovery, facilitated by a multi-disciplinary team of Psychiatrists, GPs, Registered Nurses, Clinical Psychologists, Therapists and Case Workers.