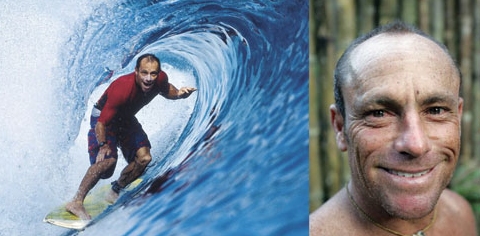 11 Aug

A Book Review: TC Tom Carroll by Nick Carroll

"It's symbolic in a way: cleaning up the wreckage of the past, staying with that clean-up process, whatever it takes and not having to be perfect about it at all. I would have seen it as being absolutely insurmountable before."

Tom Carroll by Nick Carroll is a frank, energetic and transparent read, providing insight into the family of origin, the speedy and overwhelming ascent of Tom's career and his pathway to addiction.

It's intuitively written with commentary from Nick and Tom that highlights the different paths taken by each but also the strength of their brotherly bond, forged as young children facing the loss of their mother. This is a bond which ultimately provides a lifeline for Tom.

The book takes us on a journey that starts in early childhood when the brothers and their sister Jo face the confronting reality of their mother's death. This loss coincides with Tom's discovery of a surf board under the bed – a present for him from his parents – that comes to shape and affect not only his career, but also his aspirations, his strengths, his family and ultimately his role as a father.

This is a thoroughly engaging read as he struggles to find a way through the maze of fame and familiarity and remain balanced and true to himself on this roller coaster ride. He states, "Fame arrives and there is this powerful thing that's happening that's run out of control. And unless you've got a good handle on it and you are being coached into it by a good mentor, it's unlikely you will fare very well under its influence."

In one chapter of the book Tom states, "Love is something I have made real complicated. I've been fearful of allowing people to love me and fearful of allowing myself to love people."

Tom's confronting honesty is also inspirational as he charts the challenges he faced as a father, a husband, a brother and a son whilst also locked tightly in the grip of his addiction to cocaine, ecstasy and then later to Ice.  Tom's family and friends struggled with him, kept his secrets and looked in in anger and fear as the wheel began to grind him down.

When finally he takes his first step towards recovery, we all have the opportunity to read and learn his lessons from the 12 steps, his understanding of levels and boundaries and his fearless moral inventory of himself.

This is a story of inspiration, damage, family, brotherhood, loss, hope and determination.